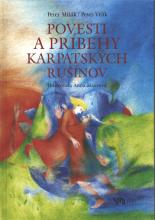 Title in English:
Tales and Stories of Carpathian Ruthenians
Publisher:
Vydavateľstvo Matice slovenskej
Unique stories are added to the map of Slovak legends, which people from the dense Carpathian forests and beautiful Poloniny have been telling each other since the times when the region was governed by brave Ruthenian princes, wrongs were righted by brave bandits and the world of human imagination was dominated by mythical creatures, dragons, devils, fairies and stone treasure guardians. This small nation in terms of the number of members inhabits the region east from the High Tatras up to Poland and the Ukraine along the arc formed by the ridges and mountains of the Carpathian Mountains. Many of them live in Carpathian Ruthenia, which was once part of Czechoslovakia. They have lived here as long as other Slavic peoples. The beauty of the tales from the well of Ruthenian folklore grabs you by the heart and captivates you. The book was awarded the Best Children's Book of Summer 2020(awarded by BIBIANA, the International House of Art for Children, the Slovak Section of IBBY).