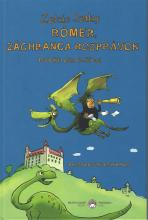 Title in English:
Rómer, the Saviour of Fairy Tales
Publisher:
Bratislavské rožky Civic Association
The civic association Bratislavské rožky publishes a book edition Bratislava Fairy Tales with the aim of introducing children in an engaging way to well-known personalities who are in some way connected to Bratislava.  Books on the inventor Wolfgang Kempelen, the composer Béla Bartók, the architect Ödön Lechner and the count, politician and writer István Széchenyi have been published so far. The latest volume is dedicated to the Bratislava local, scientist and scholar Florián František Rómer, a founding figure of Old Hungarian archaeology, one of the founders of the Old Hungarian Historical Society. He also worked as a professor at a grammar school, he tried to use illustrative examples and aids to make his pupils familiar with the subject matter. In addition to old things, he was also fond of old stories, collecting legends and fairy tales.
The book was awarded the Best Children's Book of Autumn 2020 (awarded by BIBIANA, the International House of Art for Children, the Slovak Section of IBBY).