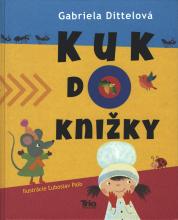 Publisher:
TRIO Publishing, s. r. o.
Many things are hidden in this book. In the first part, the poems draw on children's everyday lives, talking playfully about first hurdles or difficult tasks, such as tying their shoelaces or putting their fingers in gloves, other poems subtly advise children on how to dress for a winter sledge race. The illustrations by Ľuboslav Paľo, holder of the Golden Apple at the Biennial of Illustrations Bratislava, poetically draw attention to the characteristic features of the individual seasons. 
In the second part, young readers find humorous retellings of well-known fairy tales. The book is intended for children from the age of two.
The book was awarded the Best Children's Book of Autumn 2020 (awarded by BIBIANA, the International House of Art for Children, the Slovak Section of IBBY).