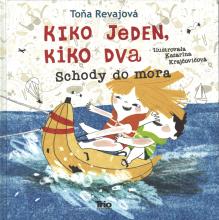 Publisher:
TRIO Publishing, s. r. o.
A sequel of a successful story about Kajka, Goran and their two talking teddy bears.
The kindergarten is closed for holidays. Ms. Ťažká, who always looks after Kajka when her parents are at work, suddenly can't come. Her three grandchildren have come to visit her. Help comes from the flat next door, from the parents of Kajka's best friend Goran. Thanks to them, Kajka, Goran and the two teddy bears, both called Kiko, will have a great holiday in Croatia with Goran's grandparents, who have stairs to the sea.
The author combines playful and realistic storytelling with fairytale elements.
The book was awarded the Best Children's Book of Autumn 2020 (awarded by BIBIANA, the International House of Art for Children, the Slovak Section of IBBY).