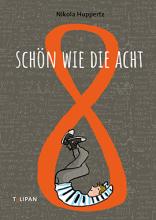 Title in English:
Beautiful like number eight
"Habits are like mathematics. Both always work, always the same." Numbers and formulae are calculable and give the mathematics-loving Malte a feeling of security. This is suspended when his previously unknown half-sister Josefine bursts into his orderly life. Malte is suddenly confronted with his parents' past and their lies. But at the same time Josefine fascinates him. Malte has to realise, the emotional fluctuations of the onset of puberty and explosive topics like unwanted pregnancy and mastectomy can no longer be solved with logic. Josefine opens his eyes to new, emotional dimensions of life.
All these themes are presented in an unagitated manner and with an incomparable matter-of-factness. The linguistic style is varied, from laconic prose passages to atmospheric poems with number symbolism. The warm-hearted black-and-white illustrations by Barbara Jung show fragile, thoughtful adolescents. This title was nominated for the 2022 German Children՚s Literature Award.