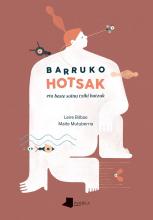 Title in English:
The sounds inside and other small sounds
Barruko hotsak eta beste soinu txiki batzuk is an illustrated poetry book. Through sounds, it expresses the daily life of a child, from the moment he wakes up until he falls asleep. Some of the sounds are internalized, but others go unnoticed and there are some that, despite hearing them, we do not notice.
Numerous calligrams and onomatopoeias appear in the poems.
The book is divided into ten chapters and the illustrations cover the first initial pages of the chapters, specifically the initial double pages and the following page, while, at the end of the chapters, the last single page.
In the illustrations the body is the protagonist and the images are based on the text. All kinds of illustrations are combined: small, one-page, two-page and hidden between letters. The colours are modest, with a somewhat dark tendency. The images are well defined and work clearly without black outlines. The illustrator has dared to make images even with words.
Formally, it is a visual poetry that renews the genre of calligram, full of rhymes and rhythms. The perplexity provoked by the unexpected conjunction of the book's text, the typographic games and the images offers the possibility of very diverse readings. It is a book that can be read with the ears and listened to with the eyes, playful and with a refined humor.
The excellent work of composition, layout and illustration of the book also stands out.