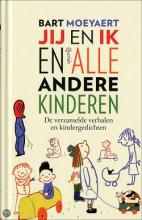 Title in English:
You and me and all the children
Illustrator:
Rotraut Susanne Berner, Gerda Dendooven, Korneel Detailleur, Wolf Erlbruch, André Sollie, Marije Tolman
This is a collection of Bart Moeyaert's stories and poems for young readers. This known Flemish author does not use too many words, but he succeeds in bringing his characters and their emotions to life. The stories and poems deal with the small things in life that every child knows about. Together with the beautiful illustrations, this is a book to cherish.